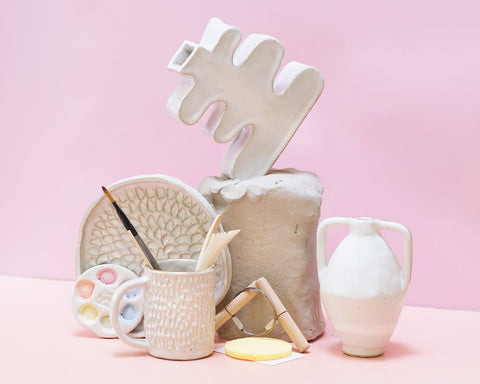 The One for Crafternoon Delight - Clay at Home kit extra large pack
Want to get really stuck in? One of our huge 6kg blocks of white clay, is just the ticket!
Join one of Clay Sydney's fabulous resident ceramicists and learn how to craft your very own fully-functional DIY pottery mugs, planters, plates, vase or something else entirely: you decide!
You pour the wine - we'll send you the clay!
What's in a clay kit?
Soft squishy clay (of course!) and super handy tools. 
The ONE FOR CRAFTERNOON DELIGHT is enough to make a whole bunch of things - you decide your clay journey!

Access to our online on-demand pottery-portal, with heaps of our easy-to-follow pro pottery videos, cheat sheets, helpful illustrations and how-to's to get you on your way. During lockdown we also have our 

An underglaze palette - save yourself $20! Our techniques focus on texture, which we then glaze with a gorgeously sumptuous white glaze for you. If you're a colourful character, and want your ceramics to match,  add on one of our fabulous, handmade underglaze palettes! One palette is enough for two people to decorate their work. 
Optional firing and glazing. To turn your items in to fully functional microwave/dishwasher safe ceramics they'll need to be fired! Simply drop it off at the Clay Sydney Victoria Road Studio in Marrickville. Don't worry clay doesn't go off, so it will happily sit on your shelf until it's fired. Please note that CRAFTERNOON DELIGHT allows you to choose if you want to fire your items, or if you're one of the folks who just want to play without making functional pieces, or fire at their local studio, you can opt out of firing. If you want to include firing, you can select this and save, or choose our ONE FOR ONE THING, ONE FOR TWO THINGS, BIGGER THING and 4 week course, which all include firing! 
More questions? 
Our helpful FAQ's are here for you, babe! 

Please note: Although we are dispatching daily, we are not able to guarantee delivery by a certain date. Check our FAQ's for our delivery estimates.