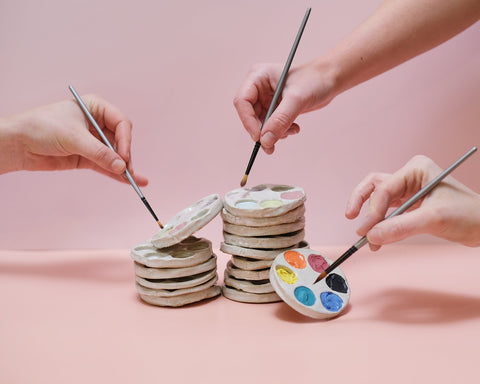 Underglaze Pallette - add some colour to your kit
If you're a colourful character, and want your ceramics to match, why not add on to your kit on of our fabulous, handmade underglaze palettes! Order when you order your kit, and we'll send them at the same time.
What's Underglaze?
Underglaze is a bit like paint, made of special minerals, applied with a paint brush before firing to add colour. You use underglaze, rather than just glaze, when you want to make mark-making, or "illustrative" patterns. After the first firing, a clear glaze (which is just a really thin layer of glass) is applied on top, and fired for a second time. When finished, your piece is permanently coloured, and ready for use!
What colours will I get?

We've so many colours in on our shelves, that you may not receive the exact colours pictured. It's a surprise!
How will I know what to do? 
How much do I need? 
One palette should be enough for two people to illustrate their work.

Can't I just use my own paints?
Unfortunately, no. Ceramics are fired (heated) to incredibly high temperatures - 1220 degrees in our case. Regular paints will not survive the process, and will atomise and burn away to nothing.