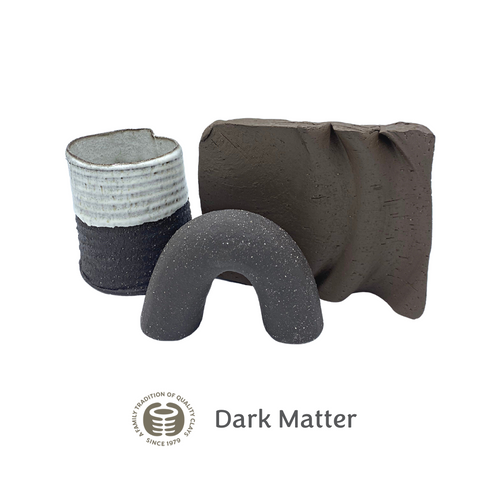 Dark Matter Mid Fire Clay by Keane
Dark Matter Mid Fire Clay by Keane is a new dark mid fire clay with added grog to provide plenty of structure and fleck.
This body is ideal for handbuilding as it stands up well, it also works well on the wheel. 
Grog level is midway between Keane's White Raku and Keane's Special K.
Specs
Bisque 1000/c06
Glaze 1222/c6
Absorption 1.54%
Shrinkage 12.5%
10kg bags
*LIMIT OF 8 BAGS PER CLAY TYPE*
If you place an order for more than 8 bags of one particular type, we will have to amend your order.  thanks!
Keane - "One of our new clay bodies formulated by Christopher James. Born 2022 I'm the new addition to the Mid Fire Family. Due to success and adoration of our Mid Fire Black, we acknowledged the demand for a grogged textural option.
Dark Matter been described to sit halfway between White Raku and Special K in texture, offering a wider range of capabilities for the hand building and throwing process.
This raw body is a dark chocolate pigment that fires to a charcoal black with white fleck at glaze temperature. This makes me popular with Potters who love to expose the natural texture and colour of my unglazed body for dramatic effect.
Even though Dark Matter is textural, it has an all-round glaze fit. It's compatible with a wide range of commercial and homemade glazes however avoid zinc in any clear glaze you choose."